Built within the heart of Malate, G Residences aims to provide comfort, convenience, and security. G Residences has 374 standard and fully furnished dormitory rooms, equipped with a prepaid metering system for electricity.  Each room can accommodate a maximum of 4 pax.  G Residences is located right at the corner of Taft Avenue and Nakpil Streets.  It has a 7-11 Convenience Store and China Bank on the ground floor.  Ample parking is provided for both residents, tenants, and visitors on the 3rd, 4th, and 5th floors.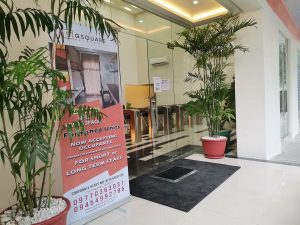 G Residences boasts of redundant security systems to ensure the safety of every tenant.  Apart from the standard CCTV system, it also has a central ID control assigned for every tenant.  The same ID provides proximity access to the elevator as well as parking and select floors of the building.
Furthermore, G Residences is being managed by a premier property management company, FPD Asia, in collaboration with FPD Global for commercial and residential leasing.